Finissage: Goodnight Sweetheart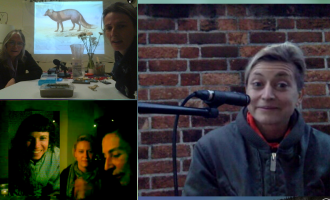 Friday, 28. April 2017 - 19:00
We cordially invite you to the finissage of the exhibtion Goodnight Sweetheart on 28th of April 2017, starting at 7.00 pm and also welcome you to participate in the Talk Embedded Politics of Technology with Ellen K Foster at 7.30 pm at esc medien kunst labor!
Embedded Politics of Technology
Ellen K Foster is a performer and transdisciplinary researcher. She currently completed her doctoral thesis in Graz. The dissertation focuses on different forms of knowledge production and possibilities for a critical analysis concerning everything related to technology. Foster connects the raised topics of Audrey Samson's finissage – such as information overload, obsolete technologies, politics of production, surveillance, collective autonomy and our approach to technology- and her own experiences from "Gathering for Open Science Hardware (GOSH)". In the talk with Reni Hofmüller, Ellen K Foster will speak about her work, joint activities such as feminist hacking and collaborative projects like the "TransHack Feminist!" meeting in Montreal with the femhacklab.
The talk will be held in English.
Embedded Politics of Technology is a cooporation with mur.at
Kooperationen/Koproduktionen: