zu Gast im esc mkl: In|filtration _ Ein|sickerung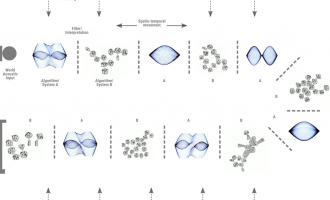 Friday, 31. July 2020 -

19:00

to

22:00
In|filtration _ Ein|sickerung ist eine Raum-Klanginstallation, die sich mit beharrlichen und unmerklichen Austauschprozessen befasst, bei denen die Oberflächen und Membranen zwischen benachbarten Akteuren und Systemen nicht nur als Formen der Abgrenzung betrachtet werden, sondern als teilweise durchlässige Schichten, durch welche sich Vorstellungen, Signale, Materialien, Licht und Klänge ausbreiten und die Identitäten des Getrennten verschmelzen.
Mitwirkende:
Carlotta Bonura, Nayarí Castillo, Richard Dank, Franziska Hederer, Beatrice Koch, Xhylferije Kryeziu, David Pirrò, Daniele Pozzi, Beatrice Raith, Hanns Holger Rutz, Theresa Schleinitz, Carolina Silveira, Gaja Znidarsic
Kooperation :
A collaboration between the Master Module in Art, Science and Technology (MAST) at the Institute of Spatial Design / TU Graz, and Algorithms that Matter (Almat) at the Institute of Electronic Music and Acoustics (IEM) / KUG Graz. Exhibition esc media art lab 2020, within the parcours Algorithmic Segments - Graz Kulturjahr 2020.