Kooperation with FH JOANNEUM
Öffnungszeiten:
25/01/2018 - 27/01/2018
2 p.m.  - 6 p.m.
Eröffnung:
Wednesday, 24. January 2018 - 19:00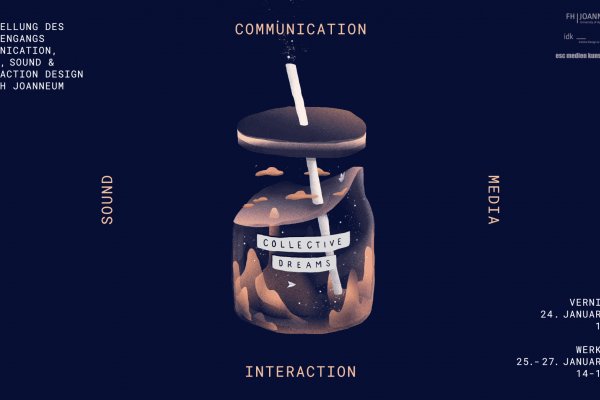 Within the framework of the exhibition, students from the master's course in Communication, Media, Sound and Interaction Design at the FH Joanneum present their works for the end of the semester. During the last three semesters, a huge number of projects have been realised. The best of these are shown at the end-of-semester exhibition.
One course – four branches of study: Communication, Media, Sound & Interaction Design. An interdisciplinary show presents selected projects, offering an insight into the students' creative world of production. Over the course of four days the glass cube of the ESC Medien Kunst Labor becomes the container of visions, dreams and their collective realisations – immerse yourself in the world of design. Even if we are not always conscious of it, design permeates all the areas of everyday life.
Alina Sorger, Andishe Zhand, Beatrice Bunjaku, Beatrice Schneider, Carmen Bakanitsch, Christian Leban, Christina Knabl, Daria Titarenko, David Stockinger, Diana Ranegger, Dmytro Mogilenets, Eva Obermayr, Florian Janßen, Florian Köhler, Ivana Brkič, Jacqueline Kircher, Johannes Kippelt, Joshua Lilienthal, Julia Baldauf, Karolin Ohrnberger, Katerina Sedlackova, Katharina Kovacs, Kimy Bahian, Klemen Furman, Leon Rehage, Lisa Taurer, Martha Eileen Ramírez Rocha, Martin Haiden, Martin Knapp, Maruša Puhek, Maxwel Owen Williams, Nataša Rajh, Natascha Eibl, Nathanael Betz, Philipp Haase, Pia Furman-Pivec, Raphael Koitz, Roman Pürcher, Sophia Humer, Tanja Schuster, Thomas Kepplinger, Valerie Quade
With help of:
Daniel Fabry 
Dietmar Mosbacher
Orhan Kipcak
Seppo Gründler
Sigrid Bürstmayr
Jakob Pock
Peter Venus
http://idk.fh-joanneum.at/2018/02/08/collective-dreams-the-final-show-of...
Kooperationen/Koproduktionen: