guest appearance: Transmittance
Maja Delak and Luka Prinčič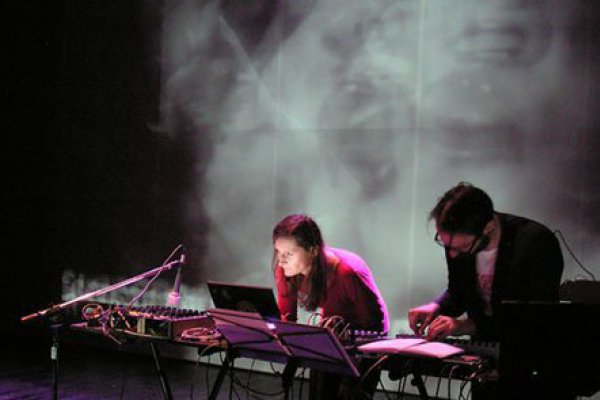 Transmittance project by Wanda & Nova deViator (Maja Delak & Luka Prinčič) explores artistic and scientific collaboration which is local, global, networked and broadcasted. It aims to research performative possibilities of streaming, broadcasting and telepresence forging new types of performance and audience with focus on critical and socially aware artistic languages.
A Transmittance context: Free streaming technology and telepresence software opened a possibility for new affordable spaces for performance. In late capitalism we are bombarded with images of body. We are manipulated with the notions of freedom and pleasure through the visual. It's an environment that increasingly segregates people by way of ethically questionable free market logic principles. Free software and open standards encourage innovation, cooperation and solidarity in developed and developing world.
 
Processing of the audio/visual and the corporeal on a stage is an important strategy to subvert the numbing and blinding effects of contemporary life. Let's invent our own ways how to position our perceptions of self in relation to freedom, pleasure and society of (promised) wealth. Let's open new spaces of visibility for performance and new media art. We need to actively bypass power structures that have a hold on physical spaces of artistic representation. Let's forge connections to new online audiences and collide different specifics of various artistic media.
Maja Delak is a choreographer and dancer. She studied contemporary dance at CNDC L'Esquisse in Angers, France, and at numerous dance seminars, lead by internationally renowned pedagogues . She studied Psychology at University in Ljubljana. She was the co-founder of institute EN-KNAP and from 1993 to 2002 a permanent member of the international dance group En-Knap. She was a programme leader of the realization of a high school programme for contemporary dance, provided for at the Pre-School Education and Grammar School Ljubljana. In her author's opus, Maja Delak has traversed numerous worlds, which – despite the different themes and approaches to work – whirl into an anchorage of the author's dance poetics, with which she is making a clearer and clearer definition of the methodologies of contemporary art and dance. In 2006, Maja Delak established institute EMANAT (NG organisation), with which she aims for the affirmation of contemporary dance – both with performance production as well as with a book programme (Transitions series) and education (AGON).
In 2010 she won the Prešeren Fund Award, the highest recognition for achievements in the field of art in the Republic of Slovenia.
Luka Prinčič is a musician, sound designer and media artist. He has participated in a number of sound-music and multimedia projects. In addition to publishing web albums, he has been active in Ljudmila and Kiberpipa and is the administrator of skylined.org, an art-server/community. Prinčič is the author of audio-visual and electro-acoustic performances and multimedia actions in physical and mental-emotional spaces (Music for Hard Disks; Retrospections: Maya Deren; Waves in public: Squares). As a sound designer and adviser, he collaborates with artists, activists and producers of festivals and conferences at home and abroad (Eclipse, Neven Korda, Jodi Rose, Borut Savski, Luka Dekleva, Galerija Kapelica, MFRU, Netmage08, EMAF07, Device_art, Moderna galerija, Maja Delak...). His work focuses on personally reflective and socially critical use of new technologies within contemporary audio-visual contexts. Most of his work is based on hacker ethics and DIY philosophy. Currently, he is most interested in the intersection of subjectivity, techno-science, net culture, AV-media and sound.