Eröffnung:
Tuesday, 14. June 2022 - 19:00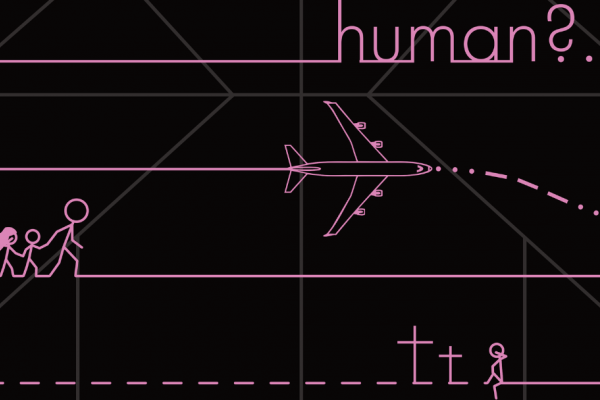 "human? ..." is a theatrical and musical mass based on the diaries of the war. Research who human is and how to feel about the war. Artistic search of actresses mariia&magdalyna together with double bassist and electronic musician krkrk.
Who is a Human? Is this a creature who has learned to love? Or those who have learned to destroy and hate?
To love is to sympathize, to empathize, to feel pain similar to yours? Love it about pain?
How not to be absorbed in darkness? Not to become a complete hatred? How to talk about the war? How to feel about the war? How to create, assert life during destruction?
 



On February 24, 2022, Russia launched a full-scale military invasion of Ukraine. The absolutely cruel phase of the 8-year, bloody war against the Ukrainian people began.



At this difficult time for our country, it is very important for us to think about everything that is happening



The three Ukrainian artists met on the 33rd day of the war because they could no longer contain all the pain inside. They found a "safe place" in Ukraine and started working on a performance.



"Human..?" is a musical trip: a combination of diaries written daily during the war and texts from the Bible. With the help of these texts, the artists spent 2 weeks exploring the issues of love, acceptance, forgiveness, anger, sin and hatred. What are these words in the modern world? is it relevant? Can I believe in something during the destruction of the world?



War evolution or degradation?



This work is about a human.



A human who seeks, loves, hates…



A man who dreams ..





mariia&magdalyna is a duo of Marusya and Nadiya, who have been working together for 9 years. During all this time they took part in more than 10 projects, were members of the social cabaret "TseSho", actresses of the Dakh theatre (Kyiv), and in 2020 launched a project of theatrical masses.



Double bassist and electronic musician Khrystyna joined the work on the mass "Human?.." and broadcast her feelings into sound.



Chaotic, arrhythmic melodies that absorb pain and search.





Their work has always been divided into stages: before the war or after the war.



Creating "during the war" is a completely new experience.



Challenge yourself how ready you are now to delve into topics of concern.



Trying to be honest with yourself and with each other.



What kind of nation are we? Are we ready to transform?



Are we ready to be?
The project was born out of the need to talk about what is happening to all of us during this war. Talk to yourself to let go and soak up. Listen and speak to empathize with each other. And unite!
Premiere was played on 16th of April, 2022 (50th day of war)
LIVE https://www.youtube.com/watch?v=ZsVSdszT1Xo&feature=youtu.be
PHOTO https://flic.kr/s/aHBqjzKLwN
Duration 50 min