Impuls MinuteConcerts, June 25th, 1pm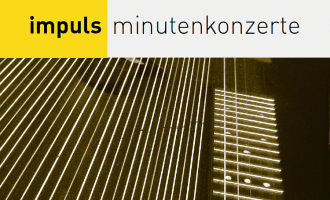 Saturday, 25. June 2022 -

13:00

to

14:00
We warmly invite you to an impuls MinuteConcert at esc medien kunst labor on June 25th at 1pm!
We are looking forward to your visit!
With the impuls MinuteConcerts impuls invites to an acoustic as well as visual tour through various galleries in Graz each year. Whether perceived as tryout or as an art course with a duration of more than 12 hours: any approach is possible, the admission free. Experts are welcome and so are the curious ones, passers-by and those, who like to stay, connoisseurs and discoverers, kids, adolescent and grown-ups ... everyone is called up to stroll around the City of Graz together with young musicians and composers and experience music, be it classical modern or most recently composed one, at first hand and aside from traditional concert stages. Meet up with artists, gallerists, curators, art lovers and other fellow beings and enjoy music and fine arts in new synergy.
You can find the entire impuls MinuteConcerts program here.