Possible Bodies: Volumetric Regimes: a guided tour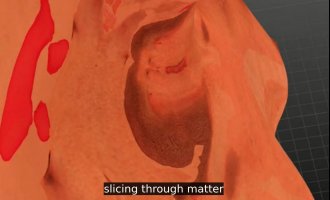 Wednesday, 1. June 2022 - 18:00
The esc medien kunst labor invites to join a book presentation and talk about the project Possible Bodies with Femke Snelting (BEL) and Jara Rocha (ESP).
Link to the Online - Plattform: BigBlueBotton
Six years of trans*feminist disobedient action-research on 3D technologies, paradigms and procedures are about to be published as Volumetric Regimes: Material Cultures of Quantified Presence (Open Humanities Press, DATA-browser series, 2022). The book foregrounds technological practices that provide with a widening of the possible and brings together diverse materials on the political, aesthetic and relational regimes in which volumes are calculated. The ongoing multi-local launch of Volumetric Regimes is made up of playful contributions, informal responses and interactive formats proposed by known and unknown comrades in the making of technosciences otherwise.
For this occasion, we will be joined by architect, theorist and educator Dubravka Sekulić who will interlocute with materials from the publication.
For more information about the book please go to: