The Department of Shadows & Waves
Eröffnung:
Saturday, 27. September 2014 - 14:30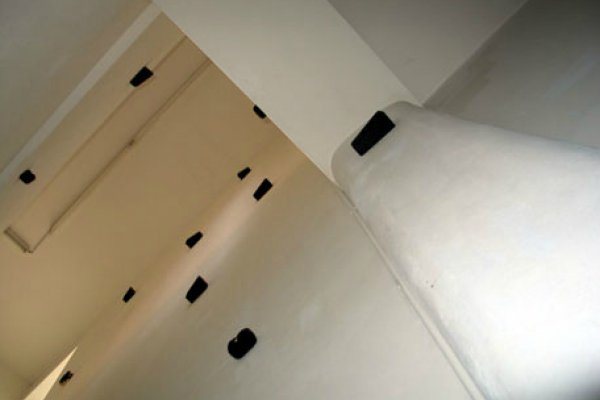 The Department of Shadows & Waves examines the physical and socio-political impact of electromagnetic fields. Their task is to set up a basic infrastructure in esc medien kunst labor, Graz (A) and Stanleystraat 14, Antwerp (BE). The Department declares open access to physical and virtual resources as buildings and antennas, air and frequencies.
RadioRuelles, a netradio serves during the exhibition as a node with a public license to "wave"cast (from both locations). Channel in: http://www.ooooo.be/ruelles
From 23th - 27th of September, your host, Marthe Van Dessel, will be (cyber)shadowing mur.at to gain competencies in installing and maintaining servers, setting up access points and of course create radiodramas (virtual). (physical) Johanna Kirsch will join the Department with her tools, practice and interest in existing norms, rules, boundaries and categories; to experiment.
"In meiner Arbeit geht es immer um die Suche nach Freiheit. Wie weit sind bestehende Normen, Regeln, Grenzen und Kategorien für mich wirklich unmittelbar relevant oder real, wo entsprechen sie individuellen, wo gesellschaftlichen Bedürfnissen und wie definieren sich diese Bedürfniswelten. Gibt es persönliche und gemeinschaftliche Autonomie jenseits von Hierarchie und Unterdrückung anderen Lebewesen oder unseren natürlichen Ressourcen gegenüber? Mein Interesse liegt darin, sowohl die Bedürfnisse wie auch die Regeln zu testen. Durch das Experiment entsteht ein Möglichkeitsraum, durch das Resultat eine Haltung, vielleicht ein Werkzeug, eine Praxis, eine neue Realität. Auf jeden Fall eine Veränderung der Perspektive, eine Alternative." Johanna Kirsch
Please enter the URL of your website.:
Kooperationen/Team:
steirischer herbst 2014
In collaboration with schrik.info, wireless antwerpen, mamm'out, liminal consortium