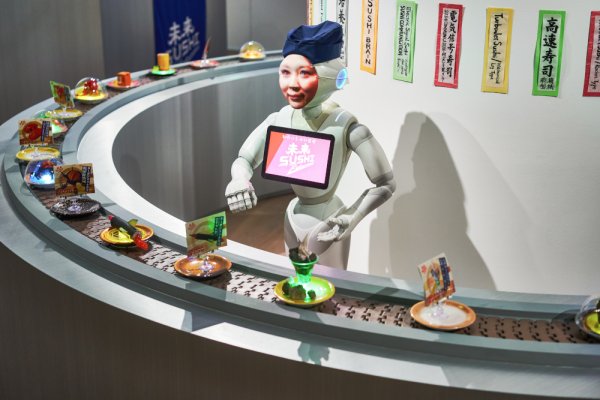 Japanese media artist Etsuko Ichihara develops installations and objects that explore Japanese culture, customs and spiritual beliefs, reinterpreting them through technological approaches.
The artist's humorous installation Future Sushi reacts on the one hand to the changes caused by the corona pandemic, and on the other hand to the question of traditional dishes in the face of environmental changes. For example, numerous sushi bars had to close due to the pandemic, and the problem of overfishing is growing in the wake of environmental crises. Future Sushi examines the changes that could also change traditional "sushi" over time.
A sushi bar was created as a performative installation: a Pepper robot with the face of a human being made via 3D printing wants to encourage visitors to consume sushi. In a surreal scene, traditional dishes are offered according to appearance. Upon closer inspection, however, visitors recognize the fantastic-looking creations: What at first looks like a classic "nigiri sushi" is revealed to be corn on rice, traditional "maki" becomes a rocket and "sashimi" is grown in a laboratory according to the bright colors.
With Future Sushi, the artist tells a story of the possible development of the food "sushi" - some sushi can only be consumed by cyborgs, others were made from deep-sea fish because there is simply no other fish left, and salmon, for example, has become so expensive (because it is so rare) that it is only affordable for certain people.
In the installation at esc medien kunst labor, the artist herself becomes a sushi master via video projection. A virtual version of the artist informs us about the different dishes in a situation reminiscent of science fiction novels. The different ingredients of the sushi can be read in English and German as part of the installation. The futuristic vision of sushi, made with traditional techniques from natural materials such as wood, bamboo and paper, addresses questions about the future of traditional food as well as supply in relation to the issue of overfished oceans.
In this context, "food" not only symbolizes the intake of nourishment as an essential aspect, but within the culture of eating - i.e. the cultural dimension of dishes such as sushi – also represents an "identity-creating existential component," as Jürgen Raap states in a Kunstforum International volume on the subject of "Eating and Drinking": "Man is what he eats." At the same time, various preferences - from Wiener Schnitzel to lasagna, or croissant to sushi - also reflect respective attitudes to life and a "longing for the 'authentic' [...] - in other words: A world view is expressed in the food." In this context, the "constant refinement of food" proves to be an explicit "constant in the history of human culture and civilization." The refinement proposed by Ichihara's installation Future Sushi critically refers to the current changes triggered by climate change and environmental catastrophes in our oceans and is dedicated to a future version of sushi, where the fish has been replaced by lab-grown food and where no waiter smiles kindly at us anymore, but a Pepper robot (or a virtual version of the artist) reads our needs in food intake based on our facial expressions and gestures.
Excerpt from Etsuko Ichihara's Artist Statement:
"Contrary to the assumption that alchemy and faith seem to collide with science and technology, I would like to assume that these two fields are actually very closely related and therefore compatible.
Based on this idea, I am creating a series of works that seek to create a connection between Japanese faith, religions, and technology. The main focus of my artistic work is on technologies and materials associated with progress, but also the events and phenomena that might occur in a future society.