Penetrating the Black Box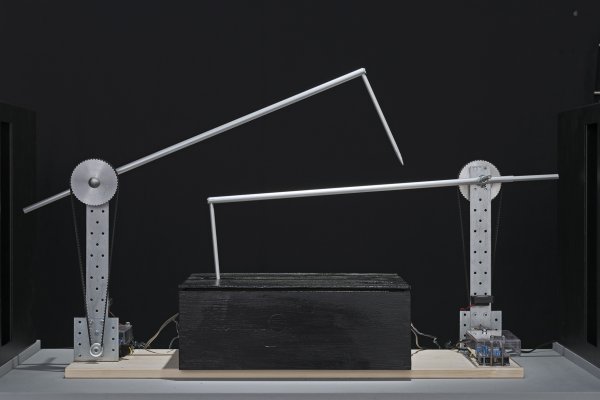 The installation proposes the photographic apparatus as a "black box" and as a metaphor to reflect upon the relation between the private and public space of the image. Inspired by Vilém Flusser's writings on photography, the artist employs his concepts of faith and magic, event and happening, towards the "coded cameras", questioning the existence of the political space of the digital image. In the installation Penetrating the black box, Reis creates a "scene" consisting of a mechanical apparatus that is programmed in order to automatically trigger two photo digital cameras (at different moments) inside a black box. The two long arms penetrate the black box in a slowly programmed "gesture". The output image from the cameras is transmitted in real-time onto two monitors. By "touching" the camera triggers, the long arms set off an internal communication between the two cameras, confine them to a voyeur —exhibitionist relationship.
By displacing the camera's point of view from the private and occult space of the black box to the private but visible space shown on the monitors, the viewer becomes a "photographer", incorporating the camera's point of view and completing the closed-circuit installation. Penetrating the black box is an automatic system that is replacing the human gesture of taking photographs alerting the viewer to her limited role within the human-machine interaction imposed by the nature of the automatic apparatuses.