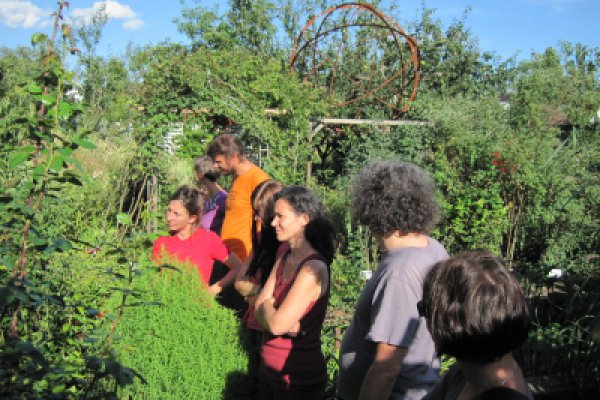 In the open_green rooftopgardens and collective citygardens we blend the organic and the digital in one and the same nature. Here we explore how this fusion takes place: examining through digital means the growth, blossoming and decay of plants and insects submitted to natural elements such as wind, rain, snow, etc.
Connected Open Greens COG
Overview of ongoing COG acitvities
Meeting Schedule Graz
20th of April: First getting together
25th June 2010: First expert meeting
4th of August: meeting with Christina Jahn, of the local Green Party
11th of August and 16th of August 2010: meetings in KunstGarten
November 2010: meeting with Gottfried Weissmann and Christina Jahn, in search of space for planting and research in Graz
February 2011: meeting along research and publication on wastelandThe topic of Connected Open Greens is the implementation of contemporary art pieces by usage of gardening situations, especially looking into microsociological and ecological systems related to time as starting points for the development of new artistic practices. Community gardens provide access to fresh produce and plants as well as access to satisfying labor, neighborhood improvement, sense of community and connection to the environment. They are publicly functioning in terms of ownership, access, and management, as well as typically owned in trust by local governments or nonprofits. (Wikipedia) This approach should be used to introduce contemporary time-based art into local communities and environments that usually are not part of the artistic focus. Urban gardening thereby becomes a method to find alternative communication stragegies for contemporary art. At the same time, technological and organisational knowledge from artists enters into the world of community-based local work. Inspirations for these strategies are collected from other art project and the TIK-partners, escpecially from OKNO with their experiences with their open green experiments.
Involved People
artist and gardener Clara Oppel; artist and organizer Fränk Zimmer; Programmer Christian Pointner; artist and gardener Nicole Pruckermayr, artist and programmer IOhannes m zmölnig, programmer and artist Jogi Hofmüller; Community Garden Movement Graz (contact person: Christina Jahn), gardening specialist Reinfrid Horn, physicist and organizer DI Katja Lamprecht; sociologist Elli Scambor; artist and programmer Norbert Math; translator and gardener Maureen Levis; historian, radio maker and gardender Leo Kühberger; gardener and organizer Anita Haxhija, artist, radio maker, organizer and gardener Reni Hofmüller
Spring 2010 - the start
In the preparations to Open Greens in Graz during TIK, we had sat together already in April to exchange first ideas and possibilities. The artists and programmers and gardeners Clara Oppel, Fränk Zimmer, Christian Pointner, IOhannes m zmölnig, Jogi Hofmüller, Reinfrid Horn, Elli Scambor and Reni Hofmüller sketched out the rough frame in which to base OpenGreens.
We agreed upon mixing already existing structures such as Kunstgarten (Reinfrid and Irmi Horn) as also looking into possibilities of widening our working fields to new areas. We agreed upon the dedication of 2010 to research, tests and experiments. In 2011 a whole life circle should be followed throughout the year. A possible additional layer of collaboration is already in sight. The sociologist Elli Scambor brought in the idea of an interweaving with a researchproject on Social Networks in Graz, she is currently working on with Fränk Zimmer, both part of TIK from the beginning.
During and due to the meeting on Friday, 25th june 2010, the team has grown. Anita Haxhija, Maureen Levis, Leo Kühberger and Norbert Math have joined TIK. Two new areas of interest have been added to the list: one is "Annenstrasse", a zone of high interest of the City of Graz in city development, a difficult zone along an avenue, going through a rough process of gentrification. It is known that this street will be further developped by plans of the City, and now the TIK-intention is to get to know about the current plans and formulate suggestions that could be integrated in a different way of city planning.
The other zone is a living zone that used to be equipped with front gardens. These were eliminated a few years ago, and since then the climate there in summer has changed enormously. The research there goes into finding out whether these front gardens could be re-installed.
All these micro-structures are part of the spatial research that we are currently collecting. This collection of data over a longer period should give a good idea about usuable space in the City of Graz.
On a local networking level, the aim of the worklab is to widen the circle of continuous perception of the development of art pieces, and contemporary art in general. The worklab will establish a stable, local working team of artists and gardeners who collaborate during the complete period of TIK. This sets the ground to establishing communication channels with the TIK partner organisations. 
On an international networking level, the aim of the worklab is to create modules of Connected Open Greens, that facilitates methods of intertwining of contemporary art and current culture in different sizes/dimensions.
The dimensions of the modules will be such, that it is possible to share them as knowledge, that means: all partners can use the system (all information will be online) according to their scale. Graz participants/developers of Connected Open Greens will be available for project partners to give workshops. All material produced during the whole working period will be available for the closing exhibition in Brussels in 2012. 
 
Kooperationen/Koproduktionen:
This project is supported by the cultural departments of the City of Graz, the Styrian Government and the Austrian Federal Ministry for Education, Arts and Culture 
This project has been funded with support from the European Commission.