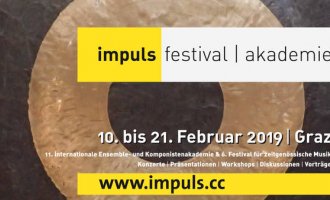 Wednesday, 20. February 2019 -

16:30

to

19:30
The workshop Another Stage with Jorge Sánchez-Chiong and selected participants, which takes place within the impuls Academy 2019, questions the production conditions of classical music life, that by itself is affected by shortage of resources and financial funds as well as a general opening and shift in contemporary music and composition, not to forget the blurring of the classical allocation of roles of composer and interpreter.
Another Stage therefore thematizes music beyond classical mainstream production, discusses questions of distribution, presentation and interaction, questions the potential and specifics of "other" spaces (such as galleries and clubs, radio and online-platforms, public and private space just to name a few) and hereby also explores the comprehensive impact, that arises by the inner musical fields opening up to f.e. intermedia works, new and mixed media, sound art, performance, improvisation – all of that also to be seen as a potential philosophical or political statement as well.
Another Stage thwarts the rituals of classical music life, questions well-established expectations and habitutes, and meets the challange of new audiences, new spaces, new locations, new artistic approaches.
The presentation of the workshop Another Stage takes place on Wednesday, 20.02.2019 at 4:30 pm in the esc medien kunst labor.
Mitwirkende:
Jaime Belmonte, Guy Ben-Tov, Pietro Dossena, Hannah Eisendle, Isandro Ojeda-García, Joan Jordi Oliver Arcos, Omar Peracha, Samuel Toro Pérez, Viva Sanchez, Markus Sepperer, Manuela Villiger, Vera Wahl
Kooperationen/Koproduktionen: