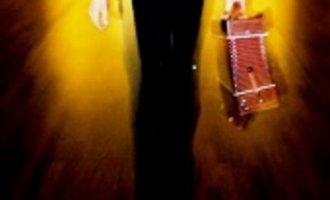 Tuesday, 21. June 2022 - 20:00
 The esc medien kunst labor cordially invites you to a concert in the context of Open music!
How can performers get in touch with their audience in a world of high-quality digital music reproduction? Why do we need a performance at all, when we can stop and start, listen to and re-listen to perfect sounding recordings from all over the world at the click of a mouse, through loudspeaker systems that reproduce instruments in every detail? Today's recorded music certainly provides much more space for viewing and understanding a musical work than a live performance ever could. To explore the enduring power of live performance and to consider the physical nature of the performer, I commissioned pieces from composers whose work encompasses both the musical and the physical. In this regard, Jennifer Walshe and Simon Steen-Andersen are two of the most exciting composers writing for notes and bodies, bringing the notion of performance and physicality back into the framework of live music making. (A.B.)
Andreas Borregaard studied with James Crabb at the Royal Danish Academy of Music in Copenhagen. From 2010 he taught there himself, and since 2017 at the Norwegian Academy of Music in Oslo. He is active in many diverse projects, formations and genres (Quintet MTQ, Duo Inviolata, Trio Gáman, Stormglas), in which collaboration with contemporary composers and the associated expansion of instrumental possibilities and repertoire for the accordion play a central role.
Moldovan-born accordionist Ghenadie Rotari (who studied in Trieste, Munich and at the Sibelius Academy in Helsinki) also has a clear focus on contemporary music, and has also attracted attention with projects such as the "Quarantine diaries" on Instragram, which present short pieces he commissioned during the pandemic, and the "Everything Accordion" podcast, which includes interviews and talks with fellow accordionists. As a "solo act," he complements Andreas Borregard's performative program with a piece for talking accordionist written for him by Matthew Shlomowitz. This explores the question of whether musical languages/systems reflect the political systems under which they are written.
TICKETS
Reservations Corona conditional cordially requested. For more information click here.
€ 16 | € 11* | € 6**
* Pupils, students, military/civil servants and unemployed persons with valid ID card
** Music students with valid ID at the box office as well as children up to 10 years of age
*** Free admission for Hunger for Art & Culture at the evening box office from 15 minutes before the concert begins
Evening box office
The evening box office opens 30 minutes before the concert begins
Reservations
E-mail
Mitwirkende:
Andreas Borregaard Simon Steen-Andersen Asthma, for accordion and video (2017) Jennifer Walshe SELF-CARE, for accordion, tape recorder and film (2017) Ghenadie Rotari Matthew Shlomowitz Freedom for notes and men, for speaking accordionist (2018)