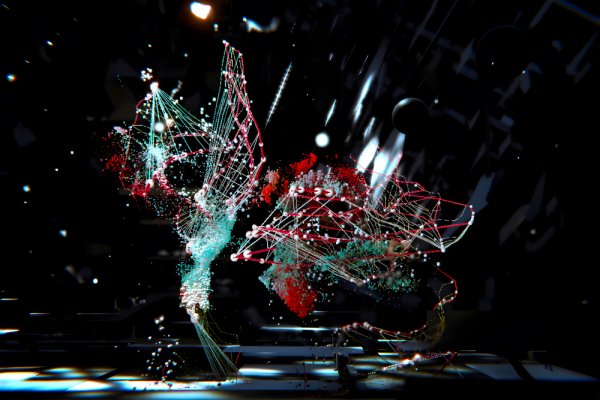 Flavia Mazzanti is an artist, architect and entrepreneur in the field of VR and digital media. Her work explores artistic-philosophical concepts of post-anthropocentrism, new materialism, body and identity with an interest in creating alternative perspectives on ourselves and our environment.
With Beyond My Skin, Mazzanti developed an installation and a performance that deal with identity and digital inclusion (i.e. with the goal of giving all people access to technology). The starting point for the project is the artist's understanding of the body as an object that is not static but constantly changing. Based on a concept by Judith Butler, the artist understands the body as a construct that emerges performatively from interaction with other beings. The social construction of "gender" is taken further and applied to the human body. As the artist commented on Beyond My Skin: "Movement is seen here as identity and self-expression, through which sensations and feelings can be transmitted and exchanged. The understanding of bodies is combined in the project in relation to the use of technology and immersive media to allow for different perspectives and alternative representations of classic avatars in digital space."
With digital tools such as motion capture technology (motion capture is a tracking process for capturing and recording movements so that computers can play them back, analyse them, process them and use them to control applications), the physical appearance of the human body is dissolved and transformed. In the installation, movements are recorded and translated into abstract, digital configurations.
As Mazzanti stated, "The transformation concerns not only the physical aspect of the body, but also its temporal and spatial change. Actions, movements and interactions overlap across spatial and temporal boundaries with the aim of merging different bodies into a collective hybrid body. A new hybrid environment emerges whose layers would be imperceptible in the physical world."
In the interactive installation, visitors interact in real time with abstract forms and experience themselves with a new kind of self-perception, as the artist noted: "In this context, the combination of physical and digital environments plays a central role in creating a phygital world. Physical and digital are equally important here and neither can be seen without the other, both complement each other in our perception and experience. This creates a balance between both spaces and the third hybrid space they generate together."
To accompany the installation, a performance of the same name by the artist will be performed as part of musikprotokoll 2023: In the performance Beyond My Skin, the performers explore the hybrid relationship between bodies and their digital representation in real time, investigating something as physical as the feeling of "touch" and its meaning in the digital. Is it possible to be physically apart but touch each other in the digital? And how would this affect our physical bodies?
Koproduktion:
Concept and artistic direction: Flavia Mazzanti
Production: Design and Installation: Manuel Bonell
Technical Artist: Tobias Mayer
Programmiing: Catherine Joy Calupas, Michael Bonell
With support from the Cultural Department of the City of Vienna, and the start scholarship for Media Art by the Ministery of Art, Culture and Sports Austria