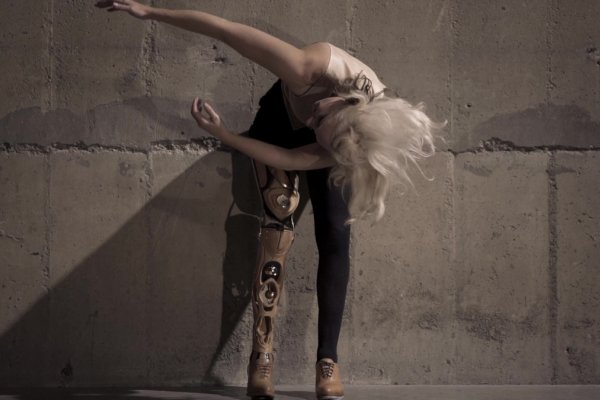 Cuckoo is a contemporary and timeless piece carved from cherry wood and features aworking cuckoo clock, bell and pendulum. This work has been made for dancer Welly O' Brien and is central to a visually striking and playful film from Candoco Dance Company for Sadler's Wells digital stage. This short choreography for camera is a reflection on our changing experience of time passing, set to a poetic musical score.The leg, carved inside and out from 2 blocks of cherry wood, houses electronics which when operated remotely work the clock and pendulum (at various speeds). The pendulum defies gravity, working even when the leg is upside down or on its side. After a ding of the bell, the cuckoo sets off out of the knee with chirping and the classic cuckoo song.We wanted to explore Time in reference to the body itself and how it transitions through difference phases and stages. Welly as a performer is at a really interesting point in her career to express this transition. She is shifting from high energy, arial acts to more gentle, solo, expressive performances and this felt symbiotic with the natural winding down of "the clock." The piece also reflects Welly's character in its playfulness and elegance as well as her enjoyment of the absurd. The idea of controlling time with various speeds and the pendulum defying gravity came about during the development of the film work as we wanted to explore the ever changing perception of time.
Another theme we explored was the underlying ticking of time within the body's own clock, our own natural rhythms. This is something innate in us as humans, it is part of who we are. It is something we can't control. This is expressed by Welly as she attempts to separate herself from the clock but it is still there. She can't control it, it's still ticking.
We worked with a mixture of traditional woodcraft and the modern technology of robotics. Using the natural elements of wood and gold in harmony with the body, we thought about what they meant to us in relation to their permanence, fragility and preciousness. These words also evoke the meaning we can attribute to time itself.
Please enter the URL of your website.:
Kooperation:
bespoke Alternative Limb:
concept and design by Sophie de Oliveira
Wood carver and design input – Sam Rudman
Prosthetist – Chris Parsons
Electronics – Rory Thompson
With thanks to John Downie and Bill Bruce
This film is a co-creation.
Co-directed by Charlotte Darbyshire and Sophie de Oliveira Barata
Dancer – Welly O'Brien
Filmmaker and Editor – Sarah Vaughan-Jones
Composer – Jules Maxwell Production Manager – Phil Webb
Producer – Ellie Douglas-Allan
Audio Description – Caroline Burn
Co-produced by Sadler's Wells and Candoco Dance Company