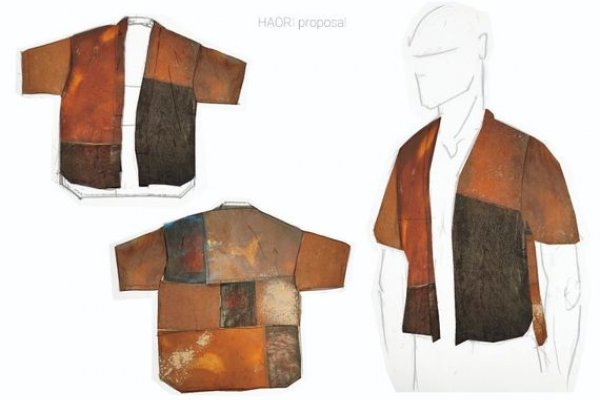 Vivien Roussel is an artist and explorer of biological materials. As Roussel stated, "In recent years, I've been exploring the living as a technical tool and as a vehicle for new collective meaning." Biotechnological or molecular biological methods became artistic tools in this process. The artist develops biomaterials in an interplay of microbes and machines, rethinking the agents between the living and the non-living in the age of biotechnology and the Anthropocene.
The esc medien kunst labor presents the work The Haori Biofilm in the exhibition Desert of Realities. This is a coat made of a so-called biofilm. Biofilms are communities of bacteria, fungi or algae that attach themselves to surfaces and grow there. They can be composed of individuals of a single species or of mixed populations of different species of organisms. The Haori Biofilm is a mantle composed of numerous delicate layers of bacterial cellulose. Inspired by Japanese design principles, the mantle was woven in cellulose from vinegar bacteria. The work, which thus appears sculptural ("sculpture" = removal of material, "sculpture" = building up of material), embodies a fusion of craft expression and microbiological knowledge. As Roussel stated: "The project investigates the symbiotic relationship between humans and bacteria, using biofilm as a medium for communication and regulation. The jacket showcases the beauty and potential of microbial life with cutting-edge materials, combining art, science and tradition in one wearable piece and evoking the organic alchemy of microbial life."
Biofilm is secreted by bacteria through a complex synthesis of sugars into biopolymers. Biofilm is usually a strategy for bacteria to adapt to community building in the environment and to protect themselves from other organisms that might use the same resources. It even serves as a medium for communication between cells to organize around nutrients present in a medium. The Haori Biofilm poetically explores this idea of support. It negotiates the inversion of our human view, in which we are not the center, but merely the hosts for the bacteria and yeasts that dominate the planet. As Roussel asks with the project: "So would it be possible to symbiotically synchronize ourselves with the living and non-humans in order to preserve the environment?"
The Haori Biofilm is meant to be worn over the kimono - as a kind of coat for every day. It is this aspect that distinguishes Roussel from Karle - haute couture versus everyday fashion. The almost translucent textile plays with light thanks to a surface finely structured by bacterial activity. Light traverses its surface, projecting ethereal patterns and inviting us to explore microscopically. The visual and tactile experience is accompanied by a light vinegar aroma, reminiscent of the fermentation process and the production of the material. Reminiscent of the organic alchemy that shaped haori, this fragrance is a testament to human ingenuity and the innate beauty of nature. It is an invitation to contemplation, a dialogue between art and science, between tradition and innovation, between man and bacterium.