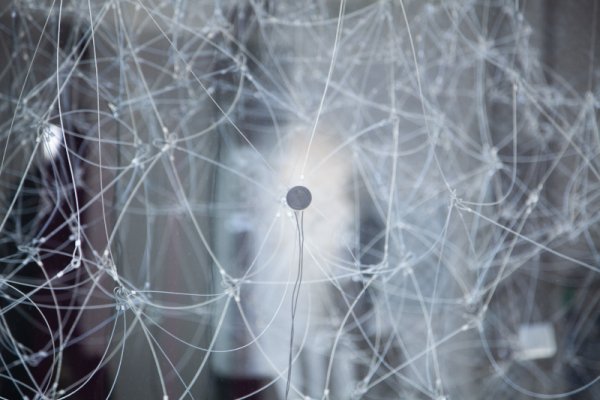 "My work comes from a spatial sensibility and deals with processes of change at the subtle boundaries of inside and outside. I deal with vital processes, transformation and growth and let it play with format and scale, deconstruct, fragment and superimpose. I deal with themes that include language, communication, life, natural art, perception in its physical and virtual levels."
[Juliana Herrero]
Plateaus is an immersive spatial installation, a tonal landscape consisting of two parts, which are intertwined and placed in the space, transforming it and making visible an examination of social structures in the daily confrontation with technologies of communication in today's world, especially in social networks on the Internet. This osmotic and permeable matter, which expands from electronic and wireless artifacts, wanders around us at different frequencies.
Plateaus reflects on space in the information age, returns to Borges' literature and comments on the idea of endless references to places, stories and memories. Not yet a thousand years old, he allegorically experiences a Deleuzian-Guatarian idea of multiplicity, in which we see the plateaus rising as utopian landscapes and expanding in their physical form. The sound is a human voice whispering fictitious cities. The sound piece, interpreted and phonetically superimposed by Herrero, becomes the material and the acoustic worlds vibrate in emotional perception.
Plateaus explores the question of how what is perceived changes perception and how this knowledge can be used emancipatorily, and whether there is a specific sound of the public and the private, and in what form these questions have already been dealt with musically, psychologically or in the context of social experiments.
Please enter the URL of your website.: