Öffnungszeiten:
Tue – Fri, 2 – 5 pm
and by appointment. Free entrance
Doku The Self is also visible from the outside of esc medien kunst labor. Detailed information can be accessed via QR Code at all times.
Eröffnung:
Friday, 17. March 2023 - 18:00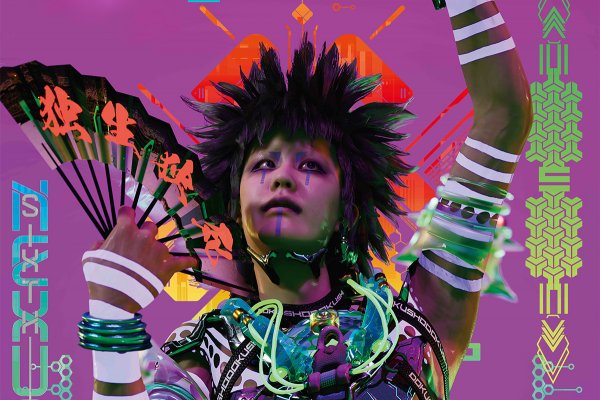 Died in the dream, and woke up to the reality
I am the person in my dream, and I am also the person who had the dream 
In Doku The Self, Lu Yang refers to the Buddhist phrase Dokusho Dokushi - We die alone, we are born alone. This is also the source of the name of the character Doku, Lu Yang's digital avatar. Doku's transformation into different forms - six incarnations in six worlds (Doku Human, Doku Heaven, Doku Asura, Hungry Ghost, Doku Animal and Doku Hell) - represents the perpetual cycle of death and rebirth, called Samsara in Buddhism and Hinduism.
Using "Avatary" (Facegood) software, the face of the "Digital Human" was formed from fifty 3D scans of Lu Yang's mimic expression variations. To generate the specific dance movements of the avatar, Lu Yang traveled to Bali and Kerala, India, to study the ritual dances of the Balinese Legong and Indian Kathakali. Lu Yang was particularly interested in the almost robotic symmetrical movements of the dancers. Lu Yang then worked with hip-hop dancers and Balinese dancers to develop the movements of the avatar Doku via motion capture in several dance sessions. So every movement we see in the video was danced by real people and then translated and animated into CGI graphics. Lastly, Oshima Tako, a master of Japanese tattoo art, tattooed the avatar's skin and clothing with ornaments from the Jōmon era (a period in Japan's prehistory lasting from 14,000 BC to 300 BC).
Doku exists beyond mortality, gravity, and sexuality. Doku can reinvent himself/herself again and again, can take on any fantasy form, can be Superwoman and/or Superman or a mythical creature, and can acquire any kind of beauty or ugliness. In the process, Lu Yang also repeatedly takes the avatar Doku into the analog world, for example, by having Doku's own stylist, cooperating with a Chinese sporting goods brand, or performing at a concert with an indie rock band.
Lu Yang's immersive installations oscillate between art, entertainment, spirituality, technology and science. Collaborating with software developers, musicians, dancers, poets, philosophers and bioinformaticians is an essential aspect of Lu Yang's artistic strategy, which unfolds in works between video, sound, light and sculpture. Lu Yang uses digital technologies to translate ritual dances or tattoos into virtual space. In a synthesis of pop cultural phenomena such as manga, anime or science fiction with scientific tools of the latest technology, works are created that take us into other realities with audiovisual installations and make us dream of other worlds.
Contemporary philosopher Jean-Luc Nancy addressed the construction of community in his book Being Singular Plural: "The fundamental argument of the book is that being is always 'being with,' that 'I' is not prior to 'we,' that existence is essentially co-existence." In the context of Lu Yang's documentary The Self and the creation of the six avatars, Nancy's thesis appears in a new light: "The singular is a (virtual) plural."
[Essay by Elisabeth Passath (formerly Saubach)]