Eröffnung:
Saturday, 25. September 2021 - 12:00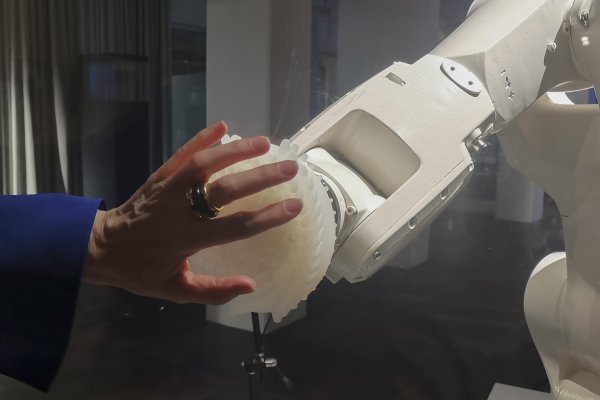 Robots are entering all domains of life - yet most people have not yet interacted directly with them. Contact offers an interaction narrative without fear of touch in a time when touch is no longer natural or habitual.
A hug, an uplifting pat on the shoulder or a delighted handshake - platonic physical touch is an essential component of connectedness. Touch can convey affection, create a sense of well-being and intimacy, and provide reassurance and comfort in difficult times.
Once taken for granted and commonplace, it has become rarer and unfamiliar in a new reality characterized by social distancing and self-isolation. Experience and numerous studies show that social communication also works via technology and elicits comparable physiological reactions. But without the possibility of exchanging physical touch, there is no convincing experience of actual togetherness, so-called "social presence".
Contact (lat. contactus, from contingo "I touch from all sides") is a human-machine interactive installation in an expanded public space. A KR6 R900 robot stands behind a windowpane and curiously watches the passers-by. If someone stops, an interaction begins between the passer-by and the robot. Cautiously, almost shyly, the robot feels its way towards the fresh relationship. It follows its counterpart, maintains eye contact, softly pokes at the window pane. The apparent highlight of the interaction is the moment of actual contact. If a person places his or her palm against the glass, the robot nestles up against the glass from the other side and after some time sends a joyful vibrating impulse. This contact lasts until the interacting person releases their hand again.
Contact lives in a time of lack of touch and physical proximity. The robot arm arouses sympathy and contact joy through its habitus and creates a human- achine connection via touch and vibration through a windowpane. However, a sense of social presence and emotional connection is created in the form of shared social interaction long before the actual touch.
The programmed behaviour of the robot is of particular importance here. It was trained with the help of reinforcement learning and body tracking data and reacts in real-time via facial and body recognition of the interactors. This is also inspired by the CASA theories (Computers are social actors), which assume that people generally perceive and treat machines with human-like characteristics as more human-like. Contact is not a humanoid robot, so it has no visual resemblance to a human. However, Contact's behaviour in the social situation of getting to know someone is human-inspired and implies attributes such as playfulness, curiosity and shyness. This creates the impression of a more comprehensive character. The first active approach is thereby reserved for the human interactor – they initially stop and also initiates the touch through the window. The current measures to contain the Covid 19 pandemic necessarily led to an increased openness towards new technologies and willingness to familiarize themselves with them.The importance of social robots also received renewed attention due to the challenges resulting from the pandemic, such as loneliness, lack of contact and hygiene. Contact uses this current openness and offers an interaction narrative for the first contact between two bodies, as they will probably meet in many places in the not-too-distant future.