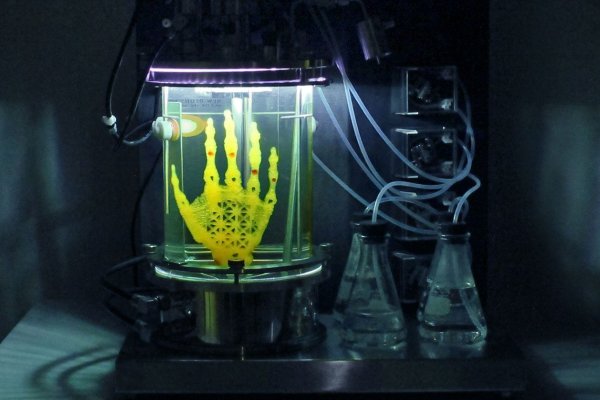 By harnessing the intelligence of human stem cells, Amy Karle created Regenerative Reliquary, a bio-printed scaffold in the shape of a human hand printed in a biodegradable pegda hydrogel that dissolves over time. The sculpture is installed in a bioreactor with the intention that human mesenchymal stem cells (hMSCs from an adult donor) seeded onto this design will eventually grow into tissue and mineralize into bone along this scaffold.
Inspired by generative and parametric design in the body, this work looks at how cells articulate into different forms - what causes a cell to become a beating heart, skin, or bone - in a naturally occurring "additive manufacturing" that occurs through a multiplier effect. "Regenerative Reliquary" also focuses on the dynamic organ and tissue in our bodies that is constantly remodeling and changing shape to adapt to the daily forces that act upon it: bone.
Bone is the structure and foundation that supports our bodies. It appears to be solid, but bone is very much alive and constantly changing. Bones are both a material of life and a material that remains after death; historically they are used to make tools, accessories, art and objects. Throughout history, bones have been given spiritual, macabre, and even miraculous significance. Bones were kept in reliquaries and served as memorials, signposts, protectors, objects of fear, superstition and worship.
Following the traditional presentation of relics in their reliquaries, this work is a finely detailed skeletal sculpture enclosed in a glass bioreactor. Rather than perpetuating the lifeless remains left behind after death as a memorial to the life that was once there, Regenerative Reliquary presents the opposite, showing the possibility of life from a lifeless object.
Housed in a mechanical womb made of scientific equipment, the design resembling the human hand appears to glow from within, illuminated from within and reflected into the surrounding darkness. The concept of the human hand was chosen because this part of the human skeleton is one of the few structures that is instantly recognizable as uniquely human. The ornate aesthetic was derived from functional design requirements: The overall lattice was created for biomimetic osseointegration; at the microscopic level, the scaffold mimics the trabecular structure of bone, the shape that prompts stem cells to become bone cells. The sculpture's distinct yellow color was necessary to 3D print it in such detail in a biodegradable, biocompatible material. Although this specific sculpture is intended to live outside the body, the design suggests that future versions could potentially be implanted and integrated into existing biological functions.
Kooperationen/Team:
Bringing Bones to Life (video on Regenerative Reliquary)
 
Artist: Amy Karle
 
Film by: Charlie Nordstrom
Assistant Editor: Blue Bergen
 
In this film in order of appearance:
Amy Karle
Chris Venter
Brian Adzima
John Vericella
Music:
"Eileen" by Lee Rosevere
"Ones Left Behind" by Ketsa
"See Through Walls" by Anitek
Available on Free Music Archive - freemusicarchive.org
Under CC by license - Attribution Noncommercial 4.0 International
 
This project was made possible with the generous support of Autodesk, Autodesk's Pier 9 Artist in Residence Program, The California Academy of Sciences, Exploratorium: The Museum of Science, Art and Human Perception, and The Bone Room.